Wine and Dine
As the most emblematic products used in the Bulgarian cuisine are the white cheese and the yorgout. Many tribes have lived in these lands and have left their traces in the Bulgarian cuisine. Threcians, Greeks, Romans, Ottomans, Protobulgarians, Slavs, Ost-Gothes etc. Basic condiments used are red pepper, black pepper, dill, parsley, allspice, savory. Our cuisine is influenced by the Greek and Turkish cuisine, but have strong similarities with the Eastern-European cuisine, like the all kind of fresh and dry sausages. Pork is the most eaten meat, followed by chicken. Lamb food is traditional for our cuisine, but is eaten mostly in springtime.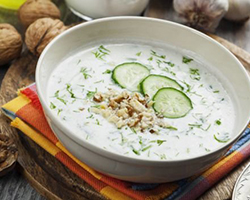 TARATORThis is cold soup, excellent for summer. Cut cucumber in cubes and mix with dill parsley and olive oil and salt.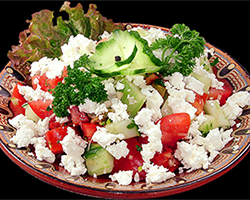 SHOPSKA
This salad is served as a starter usualy with fruit brandy. Quite popular in summer time when the vegetables are fresh.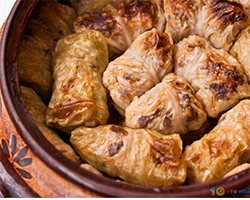 SARMI
Typical Bulgarian dish, can be prepared with meat or without according to your preference. When wrapped in vine leaves is used as a sterter.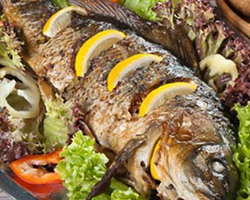 CARP WITH WALLNUTS
Carp stuffed with wallnuts, rice and herbs is a favoured Bulgarian dish, chiefly on the sixth of December - the day of the seafarers and fishermen.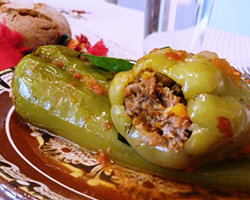 Peppers with stuffing Chop the onions and the carrots and fry in the oil. Add the rice and the minced meat. Stir for five minutes, add the salt, savory, black and red ground pepper, put water and cook till the rice softens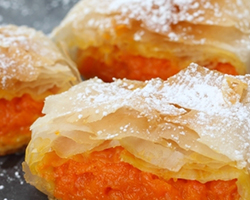 Tikvenik, Pumpkin pie This is dessert, we also have baked pumpkin for dessert.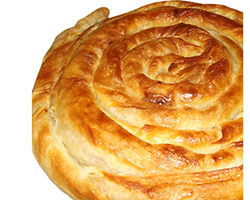 Banitsa - Cheese and egg pie
For breakfast, for lunch or supper, Banitsa i suitable for each part of the day. There are some sweet variations. For the new Years Eve we hide under the pie a coin and pie lucks.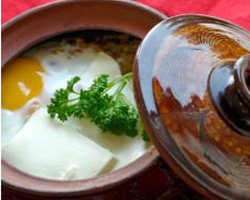 White Cheese in earthnenware jug
The easy and interesting way to reach Greece from Bulgaria is by car and by train. For those going to Greece from Black sea coat is to follow the road to Makaza passage.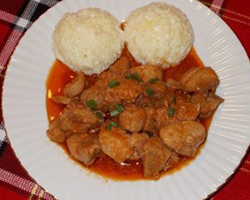 Wine kebab with veal
Can be prepared also with pork or mixed pork and veal. Always eat with boiled rice.